FinxS is an integrated system of human resource tools, and is the most advanced online psychometric system. FinxS takes psychometric profiling to a new and exciting level, unparalleled by any other system available. FinxS enables companies to produce reports that look professional and can be as comprehensive or simple as you need. FinxS provides exceptional additional insights about individuals and/or a team all at no additional cost.
The objective of human resource analytics is to provide consultants or managers with an understanding of employee issues that impact on the performance of an organisation. The main challenge for the human resource professional is to identify what data should be captured and how to use the information gathered to improve performance and reach pre-defined targets.
Most organisations obtain the necessary data through different products and reports, and often from different suppliers in different formats. Few offer an integrated process that provides consultants/managers with interrelated reports that enable them to focus on the real issues from the commencement of the project through to completion. FinxS reports can achieve this. Let's look at the four step process using the FinxS System.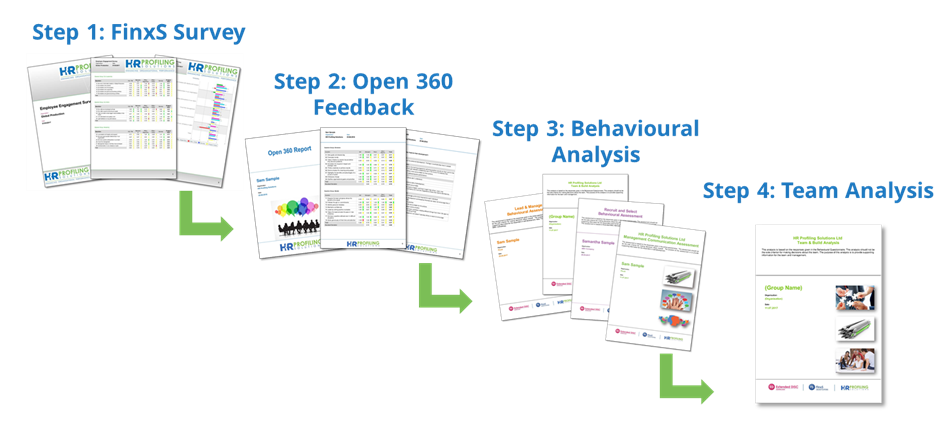 Step 1:

Complete necessary diagnostic surveys. The FinxS Surveys platform is extremely flexible and provides Climate Surveys, Employee Feedback, Customer Feedback, Customer Research, Market Research, Customer Service Support Surveys.

Step 2:

Focus on individuals involved. Our Open 360 reports, along with all our other integrated FinxS reports, are very flexible. Questionnaires can contain multiple question groups, such as "develops", "manages", "envisions", "communicates", "motivates", "delegates", "relates, "models", "leadership".etc when obtaining feedback on various individuals. There are multiple report viewing options through the FinxS System.

Step 3:

Drill down further into individual behaviours/competencies. Customised reports can be designed for various roles and positions. There is a database of over 1500 competencies to choose from in designing focused reports. The format and content is extremely flexible, with options to add text boxes, images and tips throughout.

These reports provide a valuable database for future planning, identifying those requiring training in their existing role and/or identifying roles that would suit their behavioural style better than their current role. The ability of these reports to recognise individuals who are working outside their comfort zone again provides consultants with correction opportunities.

The FinxS Online Platform offers many different options to gain invaluable insights about an individual. Once you have captured the data for an individual using the Behavioural Assessment, place their result against any other off the shelf or uniquely customised assessment at no additional cost!

Step 4:

Consider the composition of teams and their effectiveness through Team and Work Pair Analysis Reports. Once data on an individual is captured through the online questionnaire, any number of team reports can be produced at no extra cost. Simply add or remove members as the team changes with the Teams Database.

The content and format is again flexible, and tailored to the requirements of the project. The team reports contain a wide range of information which again can be customised to focus on leadership impact and provide the information necessary as a base to design leadership and management training. Compare the behavioural styles of the team members, focusing on their role in a team environment and the communication challenges.