Who is the sales competence accreditation course suited to?
We partner with sales training organisations and consultants throughout New Zealand who are experiencing challenges with client retention and revenue growth with new and existing clients. Using our Sales Evaluation tool consultants can extend their client life-cycle, gain an additional revenue stream and provide new coaching insights.
Are your client's unhappy with their closing rates, too dependent on only a few salespeople, struggling to make hiring decisions or frustrated with salespeople's excuses and performance? A Sales Competence Accreditation will equip you with the skills to evaluate and develop the skills of your client's sales force to boost performance.
We designed our Sales Competence Accreditation to provide consultants with the skills to interpret the Sales Competence assessments and apply the insights to develop successful salespeople.
Typical attendees include:
Sales Trainers
Sales Facilitators
Sales Consultants
Managers of Sales Teams
Area Managers
Sales Directors
Sales Recruiters
Location: ONLINE
Time: 11am - 2pm (NZST)
Our virtual courses consist of 2x three-hour sessions and cover the background of the Sales Competence tool and the applications of the assessment into recruitment, development, and management of salespeople and teams.
Location: ONLINE
Time: 11am - 2pm (NZST)
Our virtual courses consist of 2x three-hour sessions and cover the background
of the Sales Competence tool and the applications of the assessment into recruitment, development, and management of salespeople and teams.
How long is the sales competence training?
Our training allows you to get started with our range of Sales Competence assessments in just one day. The comprehensive full-day workshop provides you with a lifetime certification with no expiry. Your certificate is transferable to other workplaces to help you enrich the portfolio of your skills and experience.
During the accreditation training, you will:
Learn about our innovative tool for sales development and coaching
Obtain a certificate authorising you to interpret the results independently
Enrich the portfolio of your products and services in a competitive market
Increase the effectiveness of your sales development programs
Understand how to make more reliable hiring decisions
Why should we take the accreditation on sales competence course?
Over the last 22 years, we have brought together two of the most compelling aspects when hiring and developing salespeople: sales competencies and hard-wired sales behaviours. We are the only workplace assessment provider in New Zealand that can compare a sales person's learned skills against their natural sales tendencies with our powerful Sales Competence Assessments. Using this model, Recruiters and Sales Managers make more reliable talent decisions, decrease staff turnover and recruitment costs, and increase the productivity of their workforce.
Learning Outcomes:
Confidently interpret and debrief the Sales Competence tool
Gain an in-depth understanding of the 18 Sales Competencies, Sales Mindsets and Excuse Index®
Understand how skills affect sales results
Connect the sales tool to Extended DISC® methodology for more detailed analysis and development
Apply the Sales Competence Development, Recruitment, and Management Assessments to coaching and consulting situations.
Understand how to apply to results for team applications.
Develop strategies to improve sales results

The Sales Competence tool is more than a 'snapshot' of current sales skills. The reports provide explicit and tangible information to create a road map for sales success. The assessment strengthens and streamlines sales training and identifies strengths and weaknesses in 18 critically important sales competencies.
Consultants can generate three different versions of the report, Recruitment, Development and Management, to gain exceptional insights into the DNA of a successful salesperson.
Recruitment Report
During the training we teach you how the Sales Competence Recruitment report enables you to make more secure hiring decisions. The report identifies a salesperson's strengths and development areas in sales so managers and recruiters can evaluate an applicants fit to the typical tasks and activities required in the job.
The recruitment assessment provides a match between a salesperson and a job role as well as the sales cycle to ensure you match your recruit to the right position in your organisation. In comparison to other sales assessments, the scores are not static, and the tool presumes that anyone is hireable as a person can develop or reprioritise their competencies. ​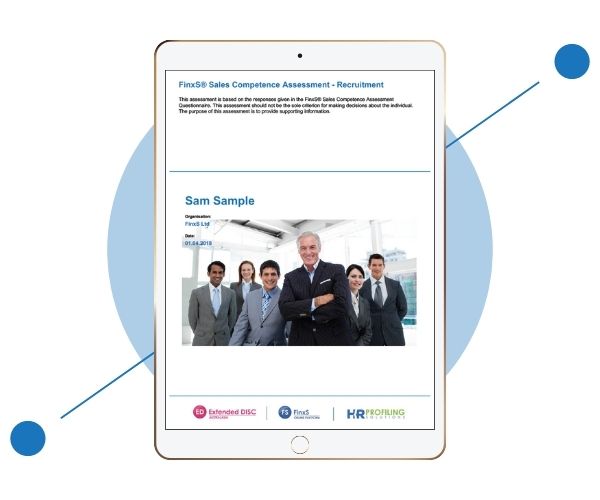 Development Report - Develop the Performance of your Salespeople
Learn how the development report can help you develop the performance of your sales team. Generate an understanding of your sales people's current level of competence, mindsets that could potentially block sales success, revolutionary excuse index weighting and unique development plans in the Development Report.
The assessment measures a salesperson's capabilities in 18 critical areas for sales success. More importantly, it provides a clear development plan on how a salesperson can improve their sales skills.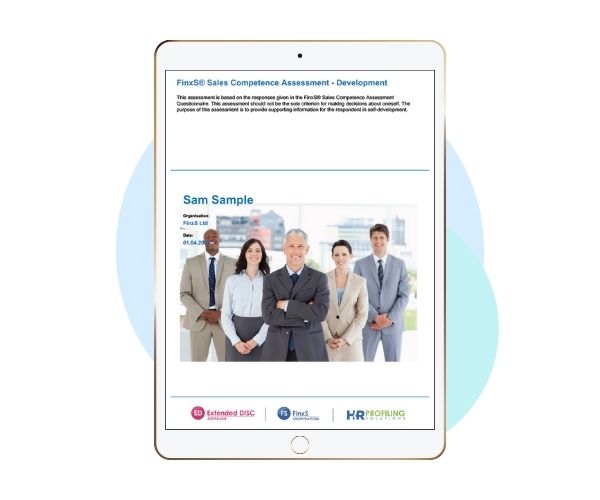 Manager's Report – Manage Salespeople Effectively
We outline the Sales Manager Assessment and how this can help you manage sales teams effectively. The Manager report pinpoints a salesperson's match at different phases of the sales process based on their current level of competence in the associated skillset. The report follows both pre- and post-sale processes to help the manager understand the strengths, weaknesses and development needs of their sales team.
The stages in PRE-sale are, lead evaluation, initial contact, needs exploration, and closing/negotiation. The steps in POST-sale are: initial engagement, account management, and expansion.
At every stage of the sales process, the results reveal if the competencies are a strength, small strength, medium impact, small risk, or a risk.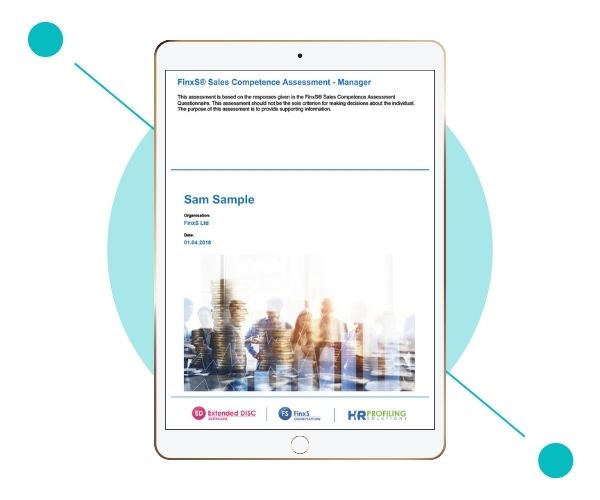 Team Reports – Increase Sales Team Performance
In addition to the individual assessments, once your sales team has completed the questionnaire, you can access up to six team reports at no additional cost. Team reports provide managers with big picture insights to make better decisions, develop the sales team, enhance productivity, and ultimately increase sales.
During the Sales Competence certification, we teach you how to enhance sales team performance based on the insights gained from the array of team reports.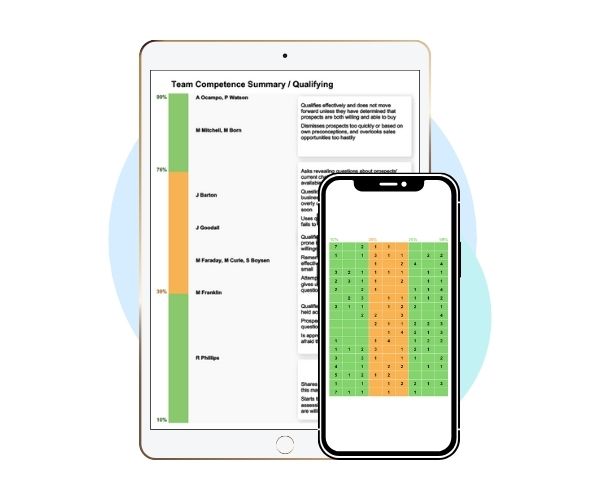 Extended DISC Sales IQ – Recognise Coaching Opportunities
Our Extended DISC Sales IQ technology incorporates incredible insights from sales competence assessments and couples them with a sales professional's natural, hard-wired DISC behavioural style.
The Extended DISC Sales IQ transforms the way we understand salespeople and identifies the DNA of exceptional sales performance. The model allows Sales Managers and coaches to quickly identify if a sales person is performing better than their natural style predicts or is not using their full potential. The Extended DISC Sales IQ uncover coaching and develop opportunities for salespeople to enhance their sales skills and performance.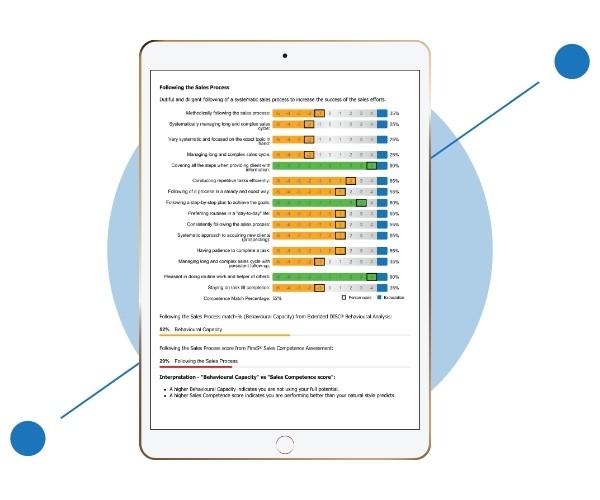 How is the training delivered?
Training is available online via video conference software or at a public certification day in Auckland, Wellington, or Christchurch. We also travel across New Zealand to provide training from the comfort of your own office.
Public Certification
The public sales certification is a comprehensive full-day training session. Experience the facilitation of our expert trainers and learn from other participants.
A public course provides you with direct access to the trainer and the opportunity to interact with other sales experts and consultants in various industries.
In-House Certification
Do you have a team looking to become certified in the Sales Competence Assessment? It may be more beneficial for us to come to you and run an in-house session.
We travel to your office or host an online certification where it is not possible to travel. The in-house option provides the opportunity to tailor the training to your exact needs.
Online Certification
Online Certification consists of two, 3-hour sessions over video conference software. They are live collaborative sessions with our Training Manager.
Our online sales training program is a popular choice for those who cannot travel due to Covid-19 restrictions or those who enjoy the convenience of a live, interactive format.