What is Workplace Culture?
Culture is the unique character and personality of your workplace and is ultimately the environment you create for your employees. Culture comprises the businesses shared values, traditions, beliefs, and attitudes. These factors are established by leaders and communicated through the organisation to shape the behaviours and perceptions of employees. Overseas employers and companies in New Zealand like the positive, 'can do' work culture of Kiwi employees.
Workplace culture is a significant force in influencing employees behaviour, job satisfaction and stress levels. Positive workplace culture attracts talent, drives engagement and impacts job satisfaction. Opposite to this, negative workplace culture can make it difficult to attract talent, affect job satisfaction and lead to poor employee engagement. Many factors influence the personality of your business, including the example set by leaders and the management team. Workplace policies, the people you hire and clarity of goals can all affect culture.
In New Zealand, workplaces tend to be much smaller and organisational hierarchies less important than other countries. Businesses expect that everyone will contribute ideas and get the job done. These cultural factors impact heavily on New Zealand workplace culture.
How to assess workplace culture?
Workplace culture surveys are an effective way to gather feedback directly from your employees to assess your workplace culture. Feedback received from the survey will help you identify areas that are contributing to thriving workplace culture and areas you can develop to further contribute to your organisation's environment.
HR surveys help to create an in-depth image of your current business culture. They allow you to request feedback from employees in multiple areas including company values, employee satisfaction and workplace environment. Highlight areas of strength and development from the culture survey findings to evaluate the employee experience.
A survey gathers information from a specified group of respondents or everyone from an organisation, relative to a critical business criterion.
The survey will uncover how employees feel about certain aspects of an organisation anonymously. The results enable organisations to formulate an action and development plan to enhance the workplace culture. Surveys eliminate administrative frustrations by automating the feedback process and collating the results.
Develop Culture with Surveys
Climate Surveys provide you with a comprehensive understanding of your current culture, plus provide a roadmap towards your ideal business culture.
Tools to test and build a workplace culture
The perceptions of employees are central to your workplace culture. Do your people align with your company values and share your vision of the business? FinxS® Workplace Culture Surveys allow you to assess your culture to find out how your employees view the company.
Surveys provide insight into what is happening within your organisation and where to focus development efforts. Management can immediately build development plans that drive the most significant impact on workplace culture and ultimately increase employee engagement and motivation.
Benefits of a Workplace Culture Survey
Create custom and unique questionnaires that align with your business
Measure employee engagement and satisfaction
Understand company culture
Identification of problem areas
Improved communication
Improved performance
Professional development
Improved team dynamics
Comparison of organisational populations
Compare feedback from year to year to identify areas of development
Workplace culture surveys
FinxS® Culture Surveys analyse your workplace culture and measure business criteria that is valuable to your workplace. The resulting reports contain a clear graphical representation of results, so you can quickly identify your culture, analyse, and compare data.
The flexibility of the online platform FinxS, allows you to create customised surveys to suit your specific business needs, from employee engagement to climate surveys.
The questionnaire collects individual opinions objectively and organises them in ways that best fit your needs.
Culture Survey Features
Team Segmentation - Set up and manage respondent groups based on team, organisational division, or location.
Reporting – Compare engagement and satisfaction levels across teams and departments to identify issues.
Automation - Invitation, reminder, and thank you emails sent automatically to respondents.
Customisation – Create and design your unique questionnaire.
Off the shelf questionnaires available
Unlimited response groups and respondents
Unlimited number of questions and question groups
White labelling - add brand colours and logos to make it feel like your own software
Build Your Questionnaire
The flexibility of the online platform FinxS allows you to create customised workplace surveys to suit your specific business goals and needs. Get off the ground quickly using one of our pre-designed Climate, Engagement or Customer Satisfaction Surveys or create your own! Customise the rating scale, add multi-choice questions or create space for open ended feedback.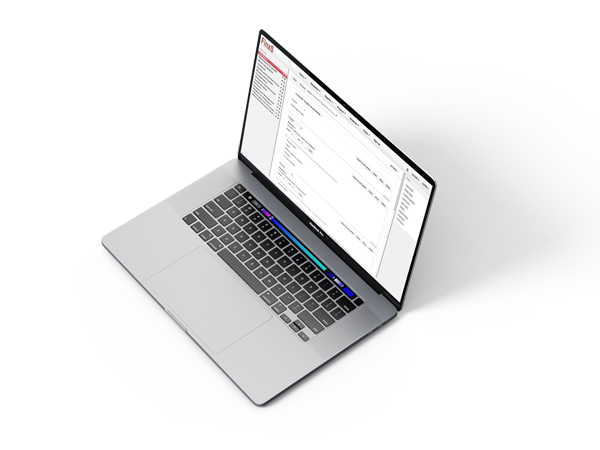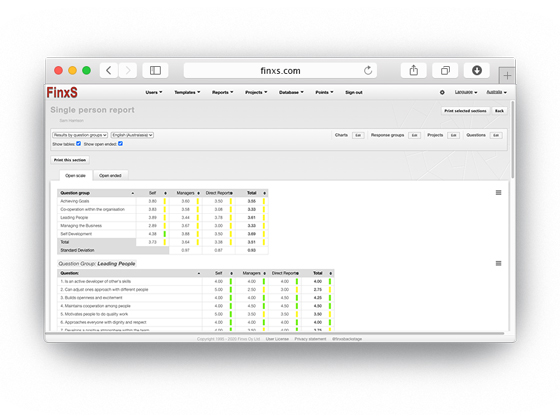 Tailor the Reports​
Intuitive and easy to read reports highlight strengths and development opportunities of the organisation. Results can be grouped by organisational division and presented anonymously to facilitate open and transparent dialogue. Leaders can quickly identify areas for development and understand how to better support employees.
The importance of workplace culture
Organisations that create a culture defined by a meaningful mission, employee engagement, teamwork, and strong leadership outperform other organisations and are more likely to attract and retain top talent.
A positive workplace shows you are living your company values and turns your employees into advocates, which enhances employee retention and drives the bottom line. How you go about business, manage workflow, interact as a team and how you treat your employees and customers all create an experience that represents your values as a company. These all create an influential organisational culture that makes your employees and customers feel like they matter. They are more likely to become loyal advocates of your business and promote it, increasing the reputation and brand awareness of your company.
What impacts workplace culture
In short, everything. Factors from leadership to the people you hire, all have an impact on organisational culture. Your culture is influenced by:
Leadership
How you communicate and interact with employees, manage workload and the leadership styles you use, all influence culture. Leaders actions and words impact on an employee's perception of the company.
People
The people you hire and their beliefs, attitude toward work and personalities affect the types of interactions that occur. Cultivating universal traits in employees leads to a collaborative, supportive and productive workplace.
Company Roots
The founding values of the company, the clarity of mission, company vision, and values and whether the daily running of the organisation honestly reflects these characteristics all contribute to culture.
Developing workplace culture
The most successful organisations understand their company culture and have measures to maintain a positive environment. One of the ways these organisations manage their culture is to gather feedback from employees regularly. Surveys are an efficient and cost-effective way to collate feedback and ensure employees align with the company values and vision. Using a survey, organisations can define the attributes of the workplace culture and measure them through employee feedback.
Organisations can utilise the survey results to identify attributes contributing to positive workplace culture, and eliminate factors that are toxic to the environment. Develop a plan to communicate the ideal atmosphere you aspire to achieve and ensure everyone is on-board. We recommend re-assessing the culture in six to eight to months to analyse a difference in results. Building a thriving culture takes time and effort, so be consistent and patient in your approach.
DISC team building workshops are a fun and collaborative way to build trust and cohesion among team members. The collaborative workshops help to faciliate a shared understanding of team members and reduce conflict. The outcomes of team building workshops contribute to safe and understanding workplace culture.
Workplace culture and productivity
High-performance cultures contribute to the satisfaction and happiness of employees. They have a favourable view of the company, feel supported and are excited to come to work. A positive environment buffers against negative experiences, such as pressure and conflict. Staff are motivated to perform and are therefore engaged and productive in their roles.
Workplace culture and employee engagement
Workplace culture drives employee engagement. The core values and beliefs of an organisation are essential to employees and their ability to engage in their work. When employees receive recognition, trust each other, and feel valued, they are more engaged, and this translates into high levels of employee engagement and greater company success.
Tracking organisational culture can be challenging, therefore tools such as Workplace Culture Surveys are pivotal in collating and feedback and measuring the current corporate climate. Big picture questions, such as 'do you feel connected to HR Profiling's mission and values' and 'how satisfied are you in your role?' help flesh out the current culture and level of engagement.